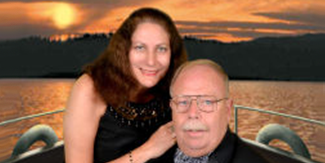 Karen and Tom Bartik support ECU.

Both Tom and Karen Bartik were born and raised in New Jersey, but life and love carried them in different directions.

Karen attended Douglass College, part of Rutgers University, in New Brunswick, NJ and graduated in 1972 with a double major in English Education and History Education. Tom attended Newark State College (now Kean University) in Union, NJ where he graduated in 1969 with a BA in Science Education and in 1971 with a Master in School Administration and Supervision. While still in NJ, Tom and Karen taught in the same school system for 12 years. They always enjoyed each other's company as good friends and colleagues, but that was the extent of their relationship because Tom was married at the time.

In 1982, Tom and his family moved from New Jersey to Greenville, North Carolina and took over his family home. They lived just across from ECU's campus. Tom's son, Scott, attended classes at ECU before deciding on another career choice. Scott now resides in Goldsboro with his wife Rebecca and daughter Destiney. Tom also continued his education by taking classes toward a second master's at ECU. Tom and his family enjoyed life in eastern North Carolina. They saw his siblings and his mother move here over the years. He continued as a teacher and athletic trainer, but in 2006 his wife died unexpectedly.

In 1984, Karen left the school system where she and Tom taught. She married and moved from New Jersey to New York. As things happen in life, her marriage was not successful and she moved back to New Jersey. Not long after that, her former husband died. She returned to teaching in a different district and taught English for an additional 19 years. Karen enjoyed life traveling and spending time with her friends and family. Then a little note arrived that changed her life.

After being widowed a few years, Tom decided he needed to rejoin the world. He started with a simple Internet search for his long lost friend, Karen. "I sat down one night and did an Internet search for her using the address of her parents, hoping that maybe they were still there and that if I sent a letter to her she might respond. I found that Karen was now living there by herself. I sat down and wrote a brief note to her explaining what had happened in my life and asked if she would like to open a line of communication. Scared, I sent if off. To my surprise and joy she wrote back."

From that time on, they talked on the phone almost nightly for hours on end and finally agreed to meet in person. "In June of 2008, we met in Williamsburg for a weekend...it was as if time had stood still for us," Tom recalls.

In July of 2008, Tom proposed to Karen. "Karen came to North Carolina to meet my family and for a week of touring the coast. There, after a performance of the Lost Colony, I proposed to Karen on the beach. The next year was hectic. Karen sold her home in NJ and moved here. I retired in June of 2009, and we got married in Williamsburg about two weeks later."

Tom and Karen say they have been fortunate to have resources that they hope will never have to be used, and their desire was to use some of those resources to honor the memory of their parents Frank and Grace Bartik, and Harry and Ida Bailin as well as Karen's sister, Madelyn Dee Bailin. "Education is the key to success. We are both strong believers in the public school system. We know firsthand what the challenges are of working in a classroom and how imperative it is to be prepared. Today's educators, and those who are yet to come, are facing challenges that are unbelievably difficult."

The Bartiks first thought they would contribute to their alma maters, but decided that ECU is where their lives are and where their hearts are. "As we began to combine our two homes into one and organize our affairs, we decided that as part of our wills we would include the school we have adopted as our own. We included ECU in our estate planning and have willed four colleges within the university scholarships to remember our parents and Karen's sister." Those include; the College of Human Ecology for their mothers, the College of Business for their fathers, and the College of Education for Karen's sister. They also plan to establish a scholarship to the school of Theater and Dance in their name as well. "Our goal is to help keep ECU a viable, relevant and academically challenging institution in Greenville as it prepares students to take on their future roles in society."

Tom and Karen say they have been surprised by the generosity and gratefulness that has been shown to them for their gift to ECU. "ECU has embraced us. We attended the scholarship award program for the College of Education, and were surprised by being recognized for a future gift. We were also deeply appreciative of the commitment to excellence in academics we have seen." The Bartiks say it makes them feel good knowing that some of their resources will someday benefit students. They have had the opportunity to meet several faculty members and administrators from the various areas they have named in their wills.

Tom and Karen are now enjoying every minute of retirement. They love taking long walks through the campus with their Dalmatian, Cooper. But if you don't see them there, they are either traveling or cruising. They are about to embark on their 11th cruise. They have traveled extensively through the Caribbean, the Panama Canal, Alaska and, most recently, to the Hawaiian Islands. They've done some land tours through the northwest USA, New Jersey, South Carolina, and Virginia and they go to the beach as often as they can.

When they aren't traveling, they like to spend time in ECU's Lifelong Learners Program. Life Long Learners is for adults over the age of 50. It's relatively new, just in its third year, and it provides the chance to go to classes and learn new information. The program offers technology classes, music classes, lectures, self-improvement classes, study groups and day trips. All of the classes are offered at minimal cost, and members are encouraged to teach classes as well. Tom and Karen say it's a great way to meet and interact with people and to immerse themselves in learning without the burden of actually pursuing a degree.

Tom and Karen say they couldn't be happier with the decision they made to contribute to East Carolina University. "It is gratifying and rewarding to know that, years from now, students will be less stressed knowing that scholarship money will be available to them. It's also comforting to know the memories of our parents and Karen's sister will live on even after we're gone. We are looking forward to our continued association with ECU."

Learn How You Can Help

If you would like to give back to East Carolina University with a planned gift, contact Kendra Alexander at 252-328-9566 or alexanderk@ecu.edu. We would be happy to help you find the gift that's right for you, at no obligation.

Click here to check out the different ways to give.

The information on this website is not intended as legal or tax advice. For such advice, please consult an attorney or tax advisor. Figures cited in examples are for hypothetical purposes only and are subject to change. References to estate and income taxes include federal taxes only. State income/estate taxes or state law may impact your results.