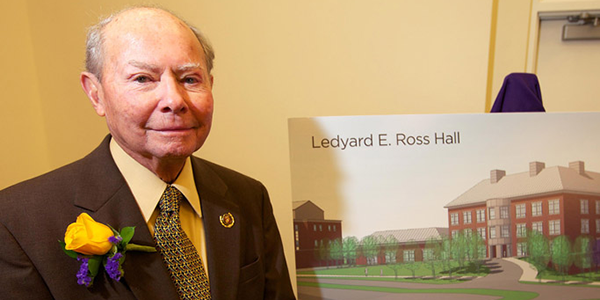 For decades, the name of Dr. Ledyard Ross was associated with beautiful smiles and straightened teeth. As an orthodontist for generations of children and adults, Ross used the latest techniques to provide services to thousands of people in eastern North Carolina. Now, his generosity will help provide vital dental services across the state to people that may not have had access to a dentist before.

Ross, who attended then-East Carolina College after leaving the US Marine Corps in 1946, made one of the largest gifts in ECU's history, pledging $4 million to support the new School of Dental Medicine's academic interests, including student scholarships and faculty research. In recognition of his contribution, the ECU Board of Trustees voted to name the new building housing the school after Ross. When finished, the "When I was in dental school, I would take one in the morning and one in the afternoon and I had three assistants. It was the longest 100,000-square-foot Ledyard E. Ross Hall will be the center for training students to help fulfill the school's mission of providing primary dental care to the people of North Carolina, including rural and underserved areas.

"I had more money than I need to live on, and if East Carolina hadn't been here, I doubt very seriously I would have been able to go to school," Ross said. "I'm just fortunate I was able to help East Carolina. When the good Lord lets you be successful, you should help people.

And help, he has. Not only has he provided orthodontic services to generations of eastern North Carolinians, but his gift will also help train dentists that will serve across the state.

"Dr. Ledyard Ross's extremely generous gift will help us in three ways: It will help us attract the best faculty since, as Dr. Ross has said, without a strong faculty you cannot give students an excellent education; second, his gift will let us provide needed financial assistance to good students coming from economically disadvantaged backgrounds who might otherwise not be able to become dentists; and third, his major contribution will help impress upon our students of the importance of giving back to society, a personal value we plan to stress throughout their time at ECU," said Dr. James Hupp, dean of the School of Dental Medicine.

After graduating from high school, Ross served in the US Marine Corps First Marine Division and was stationed in Okinawa; China; the Solomon Islands; Camp Pendleton, California; and Paris Island, South Carolina. While in the service, he had the opportunity to observe a dentist, and his path was set.

"The dental clinic was in a tent," he said. "I watched him and thought I would like dentistry."

After leaving the Marines, Ross briefly attended Hardbarger Business College before enrolling at East Carolina College. He graduated from Northwestern University Dental School with a Doctor of Dental Surgery in 1953.

That same year, Ross took over the practice of Ayden dentist Dr. Wes Gooding, who had been called into action during the Korean War. On Ross's first day at Dr. Gooding's practice, he saw 16 patients.

"When I was in dental school, I would take one in the morning and one in the afternoon and I had three assistants. It was the longest day of my life."

But while practicing in Ayden, Ross had an opportunity to see how many people in rural Pitt County desperately needed dental services.

"Then you couldn't really do good, fine dentistry because so many people had lost teeth," Ross said. "It was just a mess. I made dentures for a 12-year-old child."

After Dr. Gooding returned from Korea, Ross went on to earn a Master of Science degree in orthodontics from UNC-Chapel Hill in 1959, and practiced until 1991, when his son, Dennis, took over his practice.

"If I had to do it again, I would do it the same way. I enjoy what I did. I enjoy dentistry, and when you enjoy something it's not like real work."

And because of his generosity, Ross's legacy will live on in the healthy smiles and straight teeth of many future generations of North Carolinians.