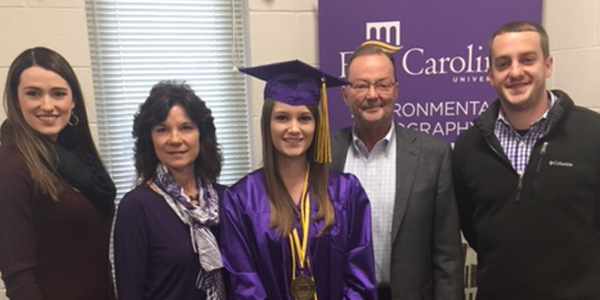 While they were ECU students, Phil and Lisa Hodges never imagined the compounding effect they would one day have on their beloved university.
Phil and Lisa Hodges were both born and raised in modest households in eastern North Carolina. Lisa, of Belfast, chose ECU because it was one of only three universities in North Carolina at the time that offered a physical therapy program. It was also the one that best fit her family's budget. Phil grew up in Bear Grass with four siblings and chose ECU for its affordability and proximity to home.
While Phil was in graduate school studying chemistry, Lisa was a conscientious undergraduate student who studied until 11 p.m. almost every night. They met through Lisa's roommate and started dating the summer after her sophomore year. "Five years later, I talked her into marrying me," said Phil. He recalled memories of the two of them attending ECU football games together, "She would take note cards to football games and would memorize them in between plays." Phil was always impressed by Lisa's dedication to her education. After graduation, Phil and Lisa had three children. All of which ended up attending ECU.
Lisa and Phil directly contribute their successful careers to the education they received at ECU. There were two faculty members who played a key role.
Lisa said, "Dr. George Hamilton was a tough professor but he prepared me well." Lisa has been a physical therapist for over 30 years and has spent her career helping patients reduce their pain, improve their mobility, and achieve long-term health benefits.
Phil's mentor, Dr. Chia-yu Li, always encouraged him to reach his potential. Dr. Li stayed in touch with him throughout his 11-year career at Burroughs Welcome and then worked with Phil once he founded Metrics, Inc., a company that provided contract services for the development and manufacturing of pharmaceutical drugs. In 2012, Phil sold Metrics, Inc. to Mayne Pharma Group Limited, a publicly held company based in Melbourne, Australia.
Phil and Lisa both received scholarships during their tenure at ECU and feel strongly about giving back to ECU. The Hodges were long term annual donors but once the time was right, Phil and Lisa created several endowments that support student scholarships and academic programs. These endowments are invested in perpetuity. The compounding interest provides funding for each department to use annually. This fall, the Hodges finalized their estate plans to further support the College of Allied Health Sciences and the Thomas Harriot College of Arts and Sciences. Lisa said, "To give students the opportunity to go to college is priceless. We are blessed and want to share our blessings with others.
"Lisa and Phil hope that their philanthropy will inspire others to give to ECU. Phil said, "Every gift, no matter the size, will make a difference. If we all give, it will have a compounding effect on the future of ECU."
Contact us today to discuss how you can use your ordinary income to do extraordinary things for ECU.