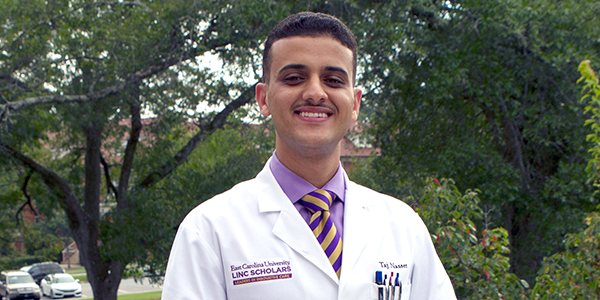 There are times in your life where you sit back and look at all you have accomplished and you think about those who have helped you along the way. For some, that reflection motivates them to give back and pay it forward. This is the case with our anonymous donor who will be remembering ECU in their will. This individual will provide scholarships for students pursuing a career in primary care medicine who demonstrate a commitment to service.
East Carolina University's Brody School of Medicine is nationally recognized for the number of graduates practicing primary care, approximately 42%. The Brody School of Medicine provides many of the doctors practicing in North Carolina: 1 out of 5 doctors in North Carolina is a Brody grad.
The Brody School of Medicine was founded in part to educate primary care doctors who will practice in underserved areas of North Carolina. It is this strength that our donor wanted to help grow. "My exposure to the economy in eastern North Carolina and seeing people needing more medical care motivated me to give to the medical school," the donor said. "Knowing the cost of a medical education, I wanted help with the scholarships as well. I'm excited about all the success they've been making and really wanted to have a part in that."
Future gifts like this one will support students like Taj Nasser. Taj's ambition is to become a practicing physician in an area of need, most likely rural NC, since that's where he has lived most of his life. Taj believes that, "donor support is crucial for the future of ECU graduates. Students are completing graduate school with hundreds of thousands of dollars in debt, before even starting a career or earning any money. That can be very stressful and discouraging. Student scholarships not only alleviate that by aiding the recipients financially but also warms their hearts with motivation."
When asked what message he would like to send to alumni and friends, Taj said, "The generous support that donors offer does not go unnoticed. It plants seeds of success that current and future generations will harvest. By selflessly helping students through the financial struggles, they are setting great examples for ECU's motto, Servire - To Serve."