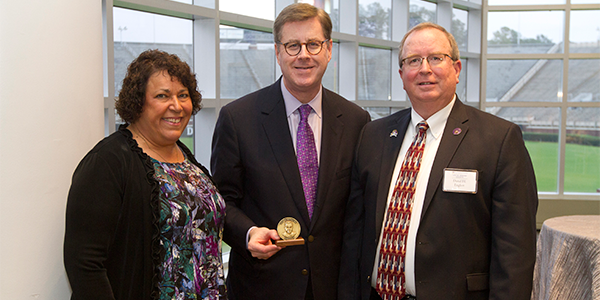 Thinking about or planning a will can bring about an unsettling feeling of finality, but for some it's a chance to plant a seed for the future.
"Legacy comes to mind," said Gail Englert. "We want to give other people the opportunity to enjoy the experiences that we have."
You may know Gail Englert and her husband, Dave. They have been fixtures at East Carolina University athletic events and other university activities for years. Their love for the Pirates is deep in nature and is going to continue for years to come.
"Growing the endowment fund is an important priority for ECU. By endowing scholarships, we're hopeful that our bequest will last a long, long time and help many students achieve their dreams. We also hope that by receiving generosity they too will one day be inspired to give something back," Dave said.
Dave Englert is a New Yorker by birth, but a Pirate by heart. He was born in Queens and grew up on Long Island. From the moment he was born until he graduated high school, Dave's whole world was New York.
"There were 49 other states, but I had only ever been to New Jersey," Dave remembered.
His desire to explore led him to Greenville. Dave learned about East Carolina though one of his best friends' sister, who went to ECU. He liked the idea of going to college in the South where it was warmer, and the tuition made sense - it was about the same price as a New York state school.
From the time Dave got a look at ECU's campus and experienced how warm and friendly everyone was, he was hooked. He graduated in 1975 with a Bachelor of Science degree in Business Administration. He landed his first job with the United States General Accounting Office in Norfolk and became a certified public accountant in 1979. Dave joined Southern Tile Distributors in 1981 where he was vice president of finance and treasurer before retiring in 2012.
Dave's life changed forever in 1985 when he took out a personal ad. Back then, there were no social media or dating websites. The chance that Dave took paid off. Gail answered his ad and the rest, as they say, is history. Dave and Gail will have been married for 30 years this year. Dave is proud to have been able to help parent Gail's son, Michael. Gail retired from a 36 year elementary and middle school teaching career in 2015.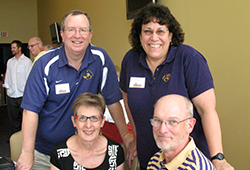 Over the past 30 years, the Englerts have been traveling back and forth to Greenville from the Virginia Tidewater area for football, basketball and baseball games, alumni association board meetings, golf tournaments, and numerous other alumni and Pirate Club events. They have just added another reason with Gail's recent appointment to the College of Education Professional Advisory Board. It's about a five-hour round trip, but that doesn't matter to them.
"You just can't appreciate how satisfying it is, how fun it is, and how enjoyable it is to be with the people of East Carolina University," Dave said. Dave has felt this way about ECU since his freshman year back in 1971. Gail, a University of Florida graduate who married into the Pirate Nation, bleeds purple and gold as well. So when it came time to plan their will, they knew ECU had to be a part of it.
"We have one son and he, of course, is the first priority of our estate. That got us to thinking about what to do with the rest. There are lots of great causes in the world," Dave said. "Because we believe that my education and our continued connections with the university are big reasons why we have been successful, we decided to give the entire balance of our estate to various areas of special importance to us at East Carolina."
The Englert's estate will actually benefit four areas at ECU - the College of Business, the College of Education, the Alumni Association and the men's basketball team. They have met with those deans and others to see where their future gifts would have the most benefit.
"It's been a really great experience working with everyone at ECU," Gail said. "The key for us was the interest, concern and support we received from the planned giving staff in the university's Advancement Office. Once we settled on the desire to endow various scholarships, we had numerous meetings to get everything just as we wanted. They coordinated with the other ECU schools and departments on our behalf, and always put our needs first. They took time to answer our endless questions carefully, and always made us feel special and appreciated. There was never any pressure. The process allowed us to discover the best way for us to help the university and be a part of its continued progress."
Philanthropy is something that started running through Dave's veins while at ECU. He joined the Phi Sigma Pi National Honor Fraternity in the spring of his freshman year. Phi Sigma Pi awarded several scholarships and raised money through a variety of projects during Dave's time at ECU. He said the group's faculty advisor, Dr. Richard Todd, always matched every dollar the men raised.
"I learned all about the virtues of scholarship, leadership and fellowship under Dr. Richard Todd," he said.
The Englerts' commitment to ECU runs deep, and they hope their example will motivate others.
"For anyone considering their options in estate planning, I would tell them to think about their life - what they love and what they have accomplished - and think about how East Carolina played a role and what that meant for them over the years," Dave said. "If it's something that is important to them, something that they have benefitted from, and it's something they have in their heart to recognize, there's no better way to help the future of our region, state and nation than to support the opportunity for an ECU education."