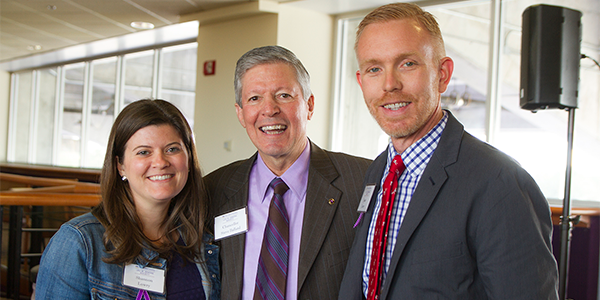 Jason Lowry '99 was raised in Zebulon, North Carolina. He met Rodney Murray '02 in the 5th grade. They instantly became friends. Jason and Rodney went to East Wake High School and remained close during their time together at East Carolina University. Jason chose to major in economics while Rodney double majored in English and physical education. Jason was a first generation college student and paid for his tuition by selling Italian Ice at local community events. Rodney decided to join the Army Reserves to serve his country but also to help pay for his college expenses.
After graduation, Jason moved to Raleigh and began his career. Rodney was hired to teach English at Ayden-Grifton High School and became the assistant coach of the football team. Soon after Rodney started teaching, he was drafted to serve in Iraq. On Mother's Day in 2004, Rodney was tragically killed in a Humvee accident while he was deployed.
This heartbreaking loss made a major impact on Jason and his wife, Shannon. Being faced with mortality at such a young age, Shannon and Jason began to think about what kind of legacies they wanted to leave and the fact that Rodney did not have the opportunity to do the same.
Soon after Rodney's death, Jason was inspired by Rodney's willingness to serve so he chose to teach business education before receiving his Master's in Business Administration. Shannon received her Master's in Education and is currently teaching 6th grade. After paying off their undergraduate student loans, Shannon and Jason knew they wanted to find a way to honor their beloved friend for his service to his community and country.
They chose to leave legacies by giving a percentage of their estate to the East Carolina University Foundation. Jason said, "You are never too young to think about the legacy you want to leave." Shannon added, "You never know what tomorrow brings, so we wanted to document our wishes before it was too late." The Lowrys' bequest gift will support future ECU students majoring in education who have a demonstrated financial need. "We work hard to save our money, and we understand the hardship of paying for college. After Rodney's death, we both had a call to serve and help others," said Jason.
Rodney's widowed wife, Amanda Murray, expressed how much the Lowrys' gift means to her, "I am sincerely thankful and honored that these special friends of mine and Rodney's, have set up this generous scholarship in Rodney's memory. Rodney loved ECU, and getting his education at ECU was very important to him. I am so grateful they created this scholarship. It is a wonderful gift that will be able to assist students in completing their education at ECU as well as keep Rodney's memory alive."
Jason mentioned how much he enjoyed the experience of documenting his legacy gift with the university. He found the three small steps necessary to document their gift was surprisingly easy and comforting. "All I had to do was provide the paragraph in my will that states my gift intentions to ECU and sign a fund agreement that describes the criteria we wanted for the scholarship. I can sleep at night knowing that my wishes to help ECU students, in memory of my lifelong friend Rodney, will be met in perpetuity. By taking this step, I feel even more connected with my alma mater and Rodney," said Jason.