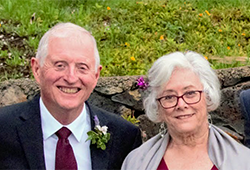 Mike McCammon, a kinesiology instructor at ECU, still has the receipt for his textbooks from his first college semester in 1969. The cost? $160.
Today's students, by contrast, can expect to spend around $600 per semester on course materials, according to the College Board, and it's not uncommon for an individual book to cost more than $200.
"It's harder for students now financially," said McCammon's wife, Susan, a psychology professor at ECU. A first generation college student herself, Sue was only able to attend because of a scholarship.
"Back in that day, you could work to pay for what your scholarship didn't cover, and today that's not true - you cannot work enough hours to pay for school and have time to devote to your academic work. So I'd like to help students out with that." Faculty like Susan and Mike McCammon interact with ECU students every day, and their proximity throws the students' needs into sharp relief. That's why they decided to make a bequest in their wills that will provide scholarships to students studying psychology and kinesiology.
Mike and Susan came to ECU in 1981. Susan took a job in the psychology department and Mike started graduate school in exercise science. They arrived expecting to stay two years. Instead, they stayed decades. This summer, they'll both retire.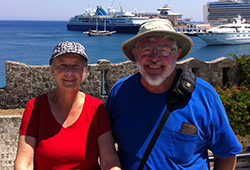 "ECU has been a fantastic home for us," Mike said. "I like coming to work every day. I enjoy the students, but it's hard being a student. Being able to help them through their time in university is really important."
Former sociology professors and husband-and-wife duo Ken Wilson and Christa Reiser also wanted to give back to ECU after long and happy careers here.
They arrived from Purdue University in 1974 and were told by then-chancellor Leo Jenkins that, "If you hire couples, they'll stick around."
"And he was right," Wilson said.
While Ken worked to help establish ECU's Survey Research Lab, now the Center for Survey Research, Christa relished in teaching and broadening students' minds.
"I personally loved going to college," Christa said. "I was spoiled in that my parents covered my costs. I want to do whatever I can to help my students have the college experience. It's such a critical time - not only opening your mind to new ideas but also meeting so many new people. It's exposure to a new world."
Ken and Christa made bequests in their wills to support future sociology scholarships. For them, the decision to give back was simple.
"I think of students I've seen who are dedicated, hard-working and struggling to juggle two jobs," Christa said. "To think that the lack of money would keep talented students from pursuing their goals… helping seems like the right thing to do."