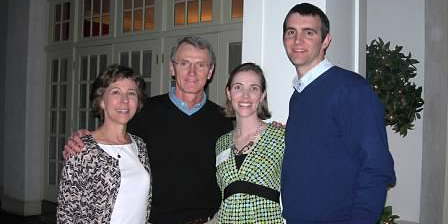 Doug Privette made academics a top priority upon matriculation at East Carolina University. The son of a Baptist minister knew his pursuit of a medical degree would require dedication. After receiving his bachelor's in biology in 1972, Doug was part of the first class to enroll in what would become ECU's nationally recognized Brody School of Medicine. "All the students in that class were extremely fortunate to get that opportunity," Doug says. Along with his 19 classmates, Doug transferred to the University of North Carolina at Chapel Hill to complete his medical degree. After graduation, Doug completed an internal medicine residency with UNC and finished a cardiology fellowship at Vanderbilt University in 1981. It was Doug's multifaceted education and experiences that positioned him to begin a private practice. "I had a lot of support from the community physicians and was busy on day one," he says.

In the medical field, North Carolina is considered part of the "Stroke Belt," a cluster of southeastern states known to have an unusually high incidence of stroke and other cardiovascular disease.

For 27 years Doug focused on patient care, treating and educating others on the prevention of heart disease and stroke. After retiring, Doug shifted into an administrative role at the East Carolina Heart Institute and joined the ECU Medical amp; Health Sciences Foundation board of directors.

Through the foundation, Doug discovered a new interest in philanthropy. Doug wanted to defray some of the student costs associated with attending the Brody School of Medicine and to sustain professorships at the school.

"Many people do not realize that the average medical student's debt is more than $150,000," Doug says. "I feel that every medical student should secure some scholarship support." Doug and his wife, Terry '73, have established a scholarship fund and included the school in their estate plans.

Two other members from the first class of the Brody School of Medicine also have established scholarships. "We are working on the other 17," Doug says. He has traveled with ECU gift officers throughout the state encouraging BSOM alumni to support the school. In 2013, Doug received the Brody School of Medicine Distinguished Alumni Award.

"Dr. Privette is an extraordinary physician, distinguished alumnus and engaged volunteer," says Mark Notestine, president of the ECU Medical amp; Health Sciences Foundation. "He's a tireless advocate for our students and faculty, and he always makes time to lend his talents to our fundraising priorities. I am most appreciative of his leadership, partnership and generosity."

Doug says that supporting professorships and scholarships is an important way to pay it forward. "It is important for our graduates to continue their investment with the school. You can't just walk out and forget that the school is a living, breathing entity that must continue to develop, evolve and thrive."