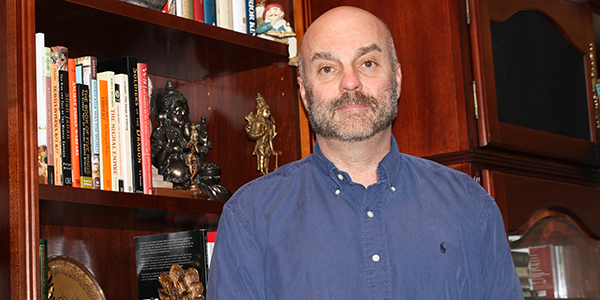 Charles Saunders, a retired history instructor at Pitt Community College, created a comprehensive planned gift to strengthen multiple facets of East Carolina University and leave a lasting legacy. Charles was greatly influenced by his mother and father who helped him while he studied history at ECU.

When Charles thought about the legacy he wanted to leave, it was clear his top priorities were honoring his family, securing his love for history and helping with Pirate Athletics. Charles decided to include a gift in his will that will set up four endowed funds benefiting ECU. He established the Edward Rudolph Saunders Business Scholarship Endowment in honor of his father. The endowed scholarship will support the transfer student from Pitt Community College to the College of Business with the highest incoming GPA.

Rudolph, Charles' father, was born and raised in Aulander, North Carolina. He graduated from Wake Forest University and married Miriam Perry, Charles' mother, in 1942, just before leaving to serve in the U.S. Army 82nd Airborne Division. Rudolph received the Bronze Star for his military service in World War II. He and Miriam adopted Charles, their only child, in 1960.

Charles established the Miriam Perry Saunders Education Scholarship Endowment in honor of his mother. Miriam was a graduate of East Carolina University Teacher's College. She began her career as a first-grade teacher and continued teaching until the late 1960s. The award in her name will support the top transfer student from Pitt Community College who wants to pursue a degree in education.

The third fund established is the Charles Edward Saunders History Scholarship Endowment. This fund will support thetransfer student from Pitt Community College with the highest incoming GPA majoring in history. This fund honors the outstanding career Charles enjoyed at Pitt Community College.

Charles received his bachelor's and master's degrees at ECU. For more than 30 years he has been an instructor at Pitt Community College, he also instructs at the Life Long Learning Center at ECU.

Charles' fourth gift will support the men's basketball program at ECU. The Charles Edward Saunders Student Athlete Endowment will offer student-athlete scholarships to the ECU Men's Basketball team. Charles is thrilled at the possibility of helping the ECU athletic program grow in the future.

To round out Charles's planned gifts to ECU, he plans on donating his 17th through 19th Century Islamic arms collection to the Department of History in the Thomas Harriot College of Arts and Sciences. He hopes the gift will aid history students and other students within the social sciences.

Charles selected the perfect gifts to acknowledge his past, help students in the future and honor his parents. Charles is ensuring his family story, career, passion for athletics and love for Islamic arms will be perpetually linked to ECU.