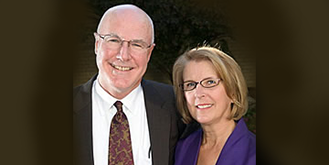 GREENVILLE, N.C. (Apr. 16, 2010) — Dr. Paul Walker and his wife, Kathryn, have made an unprecedented donation to expand the strengths and raise awareness of the Leo W. Jenkins Cancer Center while also hoping to spark the community to give in support of the cancer center.

Walker, an associate professor at the Brody School of Medicine and director of the thoracic oncology clinic, and his wife have given $500,000 to the ECU Medical & Health Sciences Foundation to be used to fund an endowed professorship in oncology and support research by faculty members. The gift is the largest ever made to the university by a faculty member.

The gift was announced at today's ECU board of trustees meeting.

Of the amount, $333,000 will draw a state match of $167,000 to fund the professorship. The rest will serve as seed grants to jump-start promising research so scientists can collect data and subsequently apply for larger grants.

The faculty member who holds the professorship will be called the Paul R. and Kathryn M. Hettinger Walker Distinguished Professor of Clinical Oncology.

"I firmly think there are a lot of strengths here," Paul Walker said. "I believe there's a lot of growth that can be accomplished. I'm committed to building a program, and that's very exciting. Kathy and I both know, and we want everyone to know, that the Leo Jenkins Cancer Center provides the best cancer care east of I-95 and very honestly a person is not going to get better cancer care anywhere."

Dr. Paul Cunningham, dean of the Brody School of Medicine, praised the Walkers' generosity and desire to advance cancer research.

"What makes this even more special is that this has been provided by one of our own faculty," Cunningham said. "This physician has a unique perspective as to the value of this support. Being a professional who works with some of our most vulnerable patients adds to the level of compassion that this gift reflects."

Carole Novick, associate vice chancellor for health sciences development and alumni and president of the foundation, said the donation is one that will benefit eastern North Carolina.

"Kathy and Paul Walker believe strongly in the importance of the Leo W. Jenkins Cancer Center to our community," Novick said. "They see its potential and know that a donation of this magnitude will help to build on the strengths of the center, making possible expanded research and patient care. This $500,000 gift, the largest ever from an ECU faculty member, is a challenge to others to join in support for our local cancer center. These dollars will stay in our community."

Walker came to ECU about five years ago from Indiana in the prime of his career in private practice. As a young physician, he had begun in internal medicine, but felt a calling to care for cancer patients. Thus, he entered a fellowship in medical oncology.

About that time, his father was diagnosed with colon cancer, which took his life. A brother-in-law died of brain cancer. That helped him see what cancer patients and their families go through, and he responded to his calling.

"It has shaped my view of how I think cancer should be treated and cared for," Walker said. "Every patient deserves to know that everything possible has been done, is being done and will always be done in the treatment of their cancer and care of them."

The Walkers want the cancer center to be the first place eastern North Carolinians think of when they think of cancer care. They also want to make sure the center stays at the forefront in technology, research and patient care.

"Paul and Kathy Walker's gift is a signal to the region and to the state of the loyalty and the confidence that the Leo Jenkins Cancer Center inspires among those who know it best," said Dr. Adam Asch, chief of hematology/oncology at ECU. "I hope that their profound generosity inspires newfound interest in the community and across the state in our mission of bringing state-of-the-art cancer care to our region."

Since Walker arrived at ECU, the number of patients being cared for in his thoracic oncology clinic has doubled. The clinic saw more than 200 new patients in fiscal year 2008-2009, and the number is rising. Among the new approaches to care he's working on is one that involves radiation oncologists and changes the timing of chemotherapy and radiation to target tumors when they are most vulnerable.

"Dr. Walker has been a leader in establishing multidisciplinary care as a model that our center embraces and, in the region, is uniquely qualified to deliver," Asch said. "New, more successful therapies for cancer will require such collaborative approaches."

Kathryn Walker was a director of diagnostic imaging when she and Paul, then a young physician, met "over patient care," she said. "Patient care is very important to both of us."

She added that her husband wants to make sure ECU is known as a place where patients receive innovative care, feel they are in a "safe haven" and know they are receiving all the care that's available.

"That's one of Paul's mantras, that everything that can be done will be done," she said.