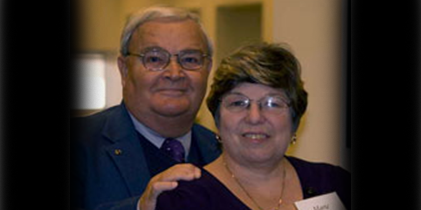 For Marie '74, '82 and James Thompson, supporting East Carolina University is a way to combine two loves: literature and East Carolina University. As advocates for J.Y. Joyner Library and loyal ECU fans, they decided to include a bequest provision in their will to make a transformational gift to Joyner Library.

Marie Thompson earned her bachelor's degree in library studies and educational technology from ECU in 1974 and her master's of library science in 1982. She retired in 2006 after spending 32 years working in the Cumberland and Wake County schools.

James, a graduate of UNC-Chapel Hill, has become an avid Pirate fan because of Marie. "I bleed purple," he says.

How They're Helping

The proceeds from the Thompsons' estate will create the James and Marie Thompson Library Fellowship and the James and Marie Thompson Library Endowment Fund. The James and Marie Thompson Library Fellowship will help library employees earn an accredited master's in library science or assist with other professional development opportunities. The James and Marie Thompson Library Endowment Fund will help fund a distinguished author series as part of the Eastern North Caroline Literary Homecoming, an annual event at Joyner Library.

"We figured that if we did this, [the distinguished author series] would be funded for years to come, and they wouldn't have to worry about whether they could afford to do it every year," Marie says.

"James and Marie Thompson bring so much fun and joy to all they do," says Larry Boyer, dean of academic and learning resources. "Working with them is always such a pleasure and delight. The scholarship funds will provide many wonderful development opportunities, and the endowment fund will help us to strengthen and enhance the Eastern North Carolina Literary Homecoming for many years."

Why They Choose to Give

The Thompsons joined the Friends of Joyner Library board of directors in 2001, and since then, they have been active supporters of ECU's Library Science program and advocates for seeking accreditation for the program from the American Library Association (ALA), which would allow ECU graduates to serve in professional library positions in higher education.

"James and I felt this would allow us to contribute to future generations by providing opportunities for teachers to enhance their education and, at the same time, show our love of literature," Marie says.

Marie came to ECU from her native Durham because of the university's library sciences program. Now, she and James are giving back to the university that gave her so many opportunities. As the first person in her family to go to college, giving to ECU is one way Marie can show her gratitude.

"ECU gave me a chance to get out and see the world," she says. And she does. Marie loves to travel and looks forward to taking a trip every year. After traveling to places such as Europe and Italy, Marie is looking forward to a trip to Nashville, Tenn., this year with a group of her friends.

Marie and James also are active in their community. James volunteers with the girl's golf team at Garner High School and Marie still works part time for Wake County Schools. They also support ECU through the Pirate Club and the EC Alumni Association. And, although they have given a great deal to ECU and Joyner Library, Marie says they get something in return from their support of ECU. "It's given me the chance to relive my college days," she says.

How You, Too, Can Help

Planned gifts like the Thompsons' provide crucial funding for programs, scholarships, professorships and other programs at East Carolina University. Creating endowments through bequests is among the simplest, most effective ways to make a long-lasting impact at ECU. By naming one or more of the three foundations supporting ECU (East Carolina University Foundation Inc., East Carolina University Medical & Health Sciences Foundation Inc., and/or the East Carolina University Educational Foundation Inc.) as a beneficiary of a percentage or specific dollar amount from your estate, you are investing in the future of young people for generations to come.

Please consider how you can support East Carolina University through a planned gift to the Second Century Campaign. Contributions from alumni and friends like you are the foundation of this campaign for the future of our university. For more information about how you can make a planned gift to East Carolina University, please visit www.eculegacy.org or call Kendra Alexander at 252-328-9566.

The information on this website is not intended as legal or tax advice. For such advice, please consult an attorney or tax advisor. Figures cited in examples are for hypothetical purposes only and are subject to change. References to estate and income taxes include federal taxes only. State income/estate taxes or state law may impact your results.