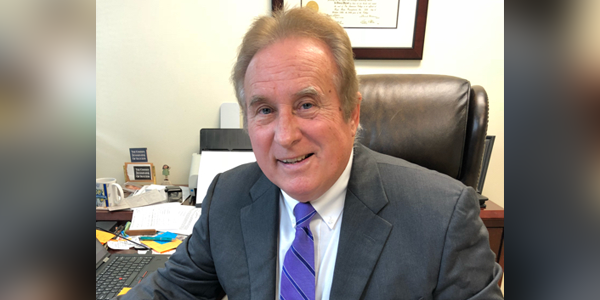 Mike Armstrong created a planned gift that supports College of Business scholarships.
With a little foresight, mike armstrong set himself and his alma mater up for success. He says it's easier than you think.
ECU alumnus Mike Armstrong insists he's just a regular guy.
He's not special or particularly wealthy, and he lives in a modest home outside Orlando. But as a financial adviser for Northwestern Mutual, Armstrong knows that, with a little planning, he can make an impact on the lives of ECU students.
He gives to ECU annually, and his employer matches his contributions 100 percent. He's also opted to give all of his asset-based retirement plans to the university after his death. His most recent gift will support College of Business scholarships.
"I am grateful to be able to give what I have given, and I have found that an ECU education is without question the best investment ever," he said.
Armstrong grew up in New Bern and attended UNC-Chapel Hill for two years before serving in the Army in Vietnam. When he returned, he decided to finish his education at ECU.
"And thank God for that," he said. He received his undergraduate degree in industrial technology in 1978 and his master's in< business in 1979, both from ECU. He went on to work for Dow Chemical for several years and then Northwestern Mutual, where he still works today.
"Certainly, the core knowledge that I got both as an undergraduate and with the MBA program were essential and a key part of my lifetime education. But the connections and the support that I had from various professors - people who cared about me - made all the difference," he said.
Another Pirate who had a strong influence on Armstrong was Melbourne Henry "M.H." Pridgen. Over a lunch meeting in 1983 while the two were both living in Rocky Mount, Pridgen and Armstrong agreed to team up to engage more alumni in the area - Pridgen with the Pirate Club and Armstrong with the Alumni Association. They established a popular monthly gathering with ECU guest speakers, from professors to the head football coach.
"He was my model and deserves the full credit for my ECU giving over the past 45 years," Armstrong said of Pridgen.
Now, Armstrong aspires to be a model of giving himself. He said he wants to give deliberately, helping provide scholarships to business students while also ensuring his wife and two kids are taken care of financially.
But "they don't need to be millionaires," he added. "The best thing you can give them is the model of giving. Hopefully I'm a model in some way because I've done these simple things."
As Armstrong has shown, sometimes the simple things are the most special.