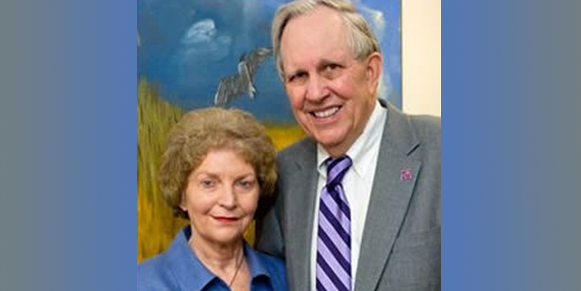 A Lifetime of Learning

On a fateful day in June 1960, when East Carolina student Jimmy Kirkland met fellow Pirate Evelyn Johnson on the steps of Wright Auditorium and made plans to go out the following Saturday night neither of them imagined they would be where they are now—married for nearly 46 years, with two grown children and one grandson. They also never imagined their life together would have such a tremendous impact on East Carolina students for generations to come. But it will.

Now, 48 years after meeting at ECU, Jim and Evelyn Johnson Kirkland have established the James Bryant Kirkland Jr. and Evelyn Johnson Kirkland Middle Grades Scholarship Fund to provide a scholarship to an undergraduate ECU student majoring in Middle Grades Education with a concentration in either language arts, or math and science.

"East Carolina did so much for us, to get us established—not that we've got a lot—but they've given us so much, we felt like we should give back to the school," Jim said. "My daddy always said he's never seen a U-Haul trailer behind a hearse. You're not going to take anything with you, so why not give it to where it will do a lot of work."

And because the Kirklands decided to give back, ECU's College of Education will have an opportunity to continue attracting the best and brightest. "We recognized that education is an outstanding profession, and by giving a scholarship we can help get the very best students into education," Evelyn said.

Education has remained a strong theme throughout their marriage. Jim's father was dean of the School of Education at North Carolina State University. Jim earned a degree in business education at ECU. And Evelyn, who grew up knowing she wanted to be a teacher, was named one of the first recipients of the North Carolina Prospective Teachers Scholarship, a precursor to the North Carolina Teaching Fellows Program.

"We feel like in a way—like a minister has a calling to go into the ministry—she had a calling from the get-go, from the 6th grade, to be a classroom teacher," Jim said of Evelyn. "Even though she could have gone into administration, she never lost sight of the importance of a classroom teacher because you're on the front lines."

Evelyn remained on the front lines as a classroom teacher throughout her 30-year career, and it is that experience as a middle grades teacher that led the Kirklands to establish the scholarship.

"That's where the children of today are beginning to think about themselves as adults," Evelyn said. "They perceive what it might be on the outside in a few years."

It is for those students and their teachers—and East Carolina—that the Kirklands decided to established the scholarship. "We feel like this is a way to help ensure that we do have outstanding students," Evelyn said. "Scholarships do attract students, and we wanted to give some way for East Carolina College of Education to attract the very best students. They could go somewhere else, but a scholarship here will definitely help them to look in our direction."