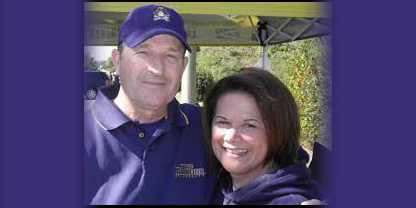 Their Virginia license plate reads "OFF2ECU." They hold season tickets for baseball, basketball and football and have been members of the Pirate Club as long as they can remember. Their loyalty to East Carolina University (ECU) is the not-so-rare type that brings them back to Greenville and ECU sometimes twice a week.

As dedicated members of the Pirate Nation, John and Arminda Israel have made their commitment official by making a bequest provision for ECU, leaving the entirety of their estate to the ECU Educational Foundation Inc., the East Carolina Alumni Association, ECU's College of Health and Human Performance, and Thomas Harriot College of Arts and Sciences.

"We love our university. It's meant a lifetime commitment for us," John Israel declares. "We really have a good time. We love our friends and we enjoy the camaraderie with our fellow Pirates. We really, really love ECU."

Discovering ECU

That love of ECU began in 1970 when John drove across the state to visit a friend who played football at ECU under Coach Clarence Stasavich. "Arriving on the ECU campus, I knew I was at home," he recalls. "I knew ECU was the place I wanted to go."

John entered ECU in 1971 as a freshman from Hendersonville, N.C. His college career was interrupted soon after a low draft number prompted him to enlist in the U.S. Navy. He served at Guantanamo Bay, Cuba, where he met his future wife, Arminda, a native of Cuba.

The Israels spent the first year of their marriage stationed in Norfolk, Va., where Arminda began her education at Old Dominion University. They returned to Guantanamo Bay in 1976 for their last assignment with the U.S. Navy. In 1980 they returned to ECU to finish their educations. John earned a bachelor's degree from the College of Health and Human Performance in 1982 and Arminda graduated in 1983 with a bachelor's degree in Spanish with a secondary education concentration.

Always True to ECU

After graduation, John worked for the Air Force in their Morale, Welfare and Recreation Program. Since then, the Israels have lived in Florida, England, Holland and Maine and, for the past 18 years, they have called Virginia home. Presently, John works as a recreation specialist with the U.S. Air Force in Hampton and Arminda as a faculty administrator at Old Dominion University in Norfolk, Va., where they live. But their dedication to ECU has remained consistent.

"Even when we were stationed in England and Holland, we maintained some contact," John says. Their involvement led to their decision to leave their estate to benefit ECU, to create the Recreation and Leisure Studies Alumni Scholarship Fund in the College of Health and Human Performance and the Raquel Manning and Marguerite Perry Honorary Scholarship in Foreign Language, and to support the endowments for the Pirate Club and the East Carolina Alumni Association.

"John and Arminda's commitment is a perfect example of how you can support all of your passions at ECU through a bequest or other planned gift mechanism," said Greg Abeyounis, ECU assistant vice chancellor for development. "This special future commitment ensures that their giving continues perpetually to all of the areas of campus that are so special to them. These endowments will strengthen our comprehensive university forever."

The information on this website is not intended as legal or tax advice. For such advice, please consult an attorney or tax advisor. Figures cited in examples are for hypothetical purposes only and are subject to change. References to estate and income taxes include federal taxes only. State income/estate taxes or state law may impact your results.