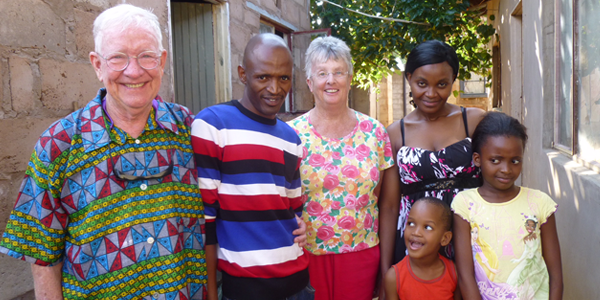 Dr. Tom Irons and his wife, Carol, on a medical mission trip to western Zambia.
After his wife's death, Dr. Tom Irons created a nursing scholarship in her name
Dr. Tom Irons keeps a voicemail on his phone of his wife laughing. It's just a short giggle in an otherwise mundane message, but her laugh is one of the many things he adored about her.
When she passed away unexpectedly in May 2016, Irons struggled not only with the shock of her death, but how to keep her memory alive.
Here was a woman who lived life so fully, who was so strong and vivacious. Carol Irons loved music, theater, and Pirate athletic events. She laughed loudly and often and was not afraid to use colorful language. She was a fierce friend, a devoted mother and an empathetic and accomplished nurse. She was outspoken about social injustices and equality and was an advocate of women's and children's health.
"She really knew how to take care of other people," Tom Irons said. Through current gifts and a retirement beneficiary designation, Irons decided to create a scholarship in Carol's name in Nursing for Honors College students who are interested in women's and children's health, show commitment to service and demonstrate financial need.
"I think the primary reason I chose to do this with the support of my children was that I wanted the things she stood for to continue. To have something in her name that would give aspiring nurses the opportunity to enhance and fund their education," he said.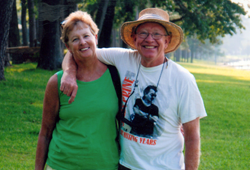 Dr. Tom Irons created the Carol Irons Nursing Scholarship to honor his wife, who died in 2016.
Irons is a professor of pediatrics at the Brody School of Medicine, director of ECU's generalist physician program and associate vice chancellor for regional health services. He is a Greenville native who returned home in 1981 to join the faculty at Brody. After he and Carol raised three children, Carol went back to school to get her master's degree in nursing from ECU and later joined the faculty as well. Both of their sons, Tom Jr. and James, graduated from ECU. Their daughter, Sarah, did not attend ECU but is a physician like her father.
Nurses are uniquely prepared to cultivate their empathy, and Carol was good at it, whether it was opening their home to neighborhood children and strangers in need or deciding at age 60 to go to Africa and start a health clinic in Zambia. To her core, she believed in service, a tradition she shared with her husband and ECU.
"Something that was important to Carol and I was that, if we were to be remembered for anything, we wanted to be remembered for what we gave, and I'm not talking about money. I'm talking about how we served," Irons said. "I believe we give for the students of the future, the young faculty of the future. To show that this university stands for what it says it does."
The Carol Irons Nursing Scholarship is also about Carol's legacy for her family.
"I'd like my (seven) grandkids to look at this scholarship and say, 'That's named after my grandma,'" Irons said. "I'd like them to know what a great nurse she was, and a great citizen. I think this is an opportunity to let other people know what she stood for."